Russian Football Stars
There is plenty of great players born in Russia, and it needs certain time to collect files on all of them. Last year, there was a poll conducted on the Internet about best Soviet players. On this page four best players are presented so far.
---
(see also the Lev Yashin photo gallery)
Lev Yashin - Moscow Dinamo (1949 - 1970) and USSR National team (1954 - 1967) goalkeeper. He was born in 1929, in Moscow, in the workers family. In 1942 he started to work himself as a turner at the Tushino tools factory in Moscow. His first coach was I.Shubin from the factory's children football team. In 1949 football and icehockey coach A.I.Chernyshov invited him to the Moscow Dinamo club, were Yashin played 22 seasons.
Lev Yashin holds the Dinamo record of the games played in USSR championship - 326. Together with the team, he won champions title in 1954, 1955, 1957, 1959 and 1963, silver medals in 1956, 1958, 1962, 1967 and 1970, bronze - in 1960. He was the USSR Cup winner in 1953, 1967 and 1970. In 1960, 1963 and 1966 he was awarded with the "Ogonyok" magazine prize for the best goalkeeper. Yashin was listed among 33 best players of the year 17 times, 14 times he was the first choice.
With the USSR National team Yashin played 78 games (70 goals conceded). He was the champion of Olympic Games in Melbourne, European Cup winner in 1960 and runner-up in 1964, participated three World Championships - 1958 in Sweden, 1962 in Chile and 1966 in England, where USSR took 4th place.
In 1963 Lev Yashin was named the best European player by the "France Football" weekly. He is the only one goalkeeper awarded with the Golden Ball. In total, he kept his goal untouched in 270 games.
In 1971 in Moscow the last game of Lev Yashin took place: Moscow Dinamo played against European stars team. In 1986 the knee injury led to the amputation of the leg. Lev Yashin died in 1990.
---
Rinat Dasaev - Moscow Spartak goalkeeper. Was born on June 13, 1957, in Astrakhan. From the age of 8 he played in the reserve team of the local "Volgar" club, coached by G.Blednykh. In 10 years he started to play in the main formation.
From 1978 to 1988 Dasaev was Moscow Spartak goalkeeper. He won the USSR championship twice, five times won the second place and twice - the third. He won bronze medal in 1980 Olympic games and was a runner-up at the European Championship in 1988. He was named the best Soviet goalkeeper by the "Ogonyok" magazine in 1980, 1982, 1983, 1985, 1987 and 1988. In 1988 he was named as Worlds best goalkeeper.
In autumn 1988 Dasayev signed for the Spanish club "Seville", and after his contract had expired, retired from football.
---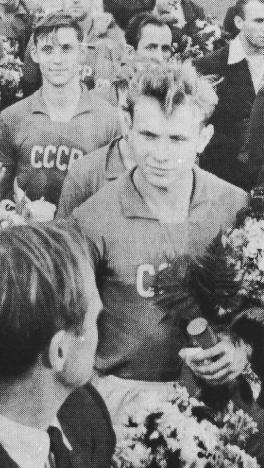 (At rear -
Vladimir Belyaev)
Eduard Streltsov - Moscow Torpedo centre-forward. Was born in 1937. Together with Torpedo he was the champion of the USSR in 1965, silver medalist in 1957, bronze - in 1968. In 1968 he also won the USSR Cup. Six times he was named the best among 33 players of the year. He played 38 games with the USSR National team in 1955 - 1967, scored 24 goals.
Streltsov is one of the most prominent Russian and European players. He was called "Russian Pele". His favorite feint - heel pass - still bears his name in Russia. However, his Torpedo addiction costed him: on the eve of the first for Soviets World Championship in 1958, he was suggested to join either army club CSKA or KGB club Dinamo. His refusal led to the disqualification from the National team (as well as for two Moscow Spartak players, B.Tatushin and M.Ogonkov) and later he was charged with criminal behaviour and sentenced for seven years of labor camps. This year the list of 33 best players was not published. After comeback to Torpedo in 1965, Streltsov led the team to their second Championship title.
---
Fyodor Cherenkov - Moscow Spartak midfielder. Was born on July 25, 1959, in Moscow. Started to play football in Moscow's SC Kuntsevo, coached by M.I.Mukhortov. Joined Spartak in 1977. In the USSR Premier League played 366 games and scored 89 goals, in the Russian Premier League he played 32 games (6 goals). He also played 40 games with the USSR National team, scored 16 goals. Cherenkov was the USSR Champion in 1979, 1987 and 1989, and the Russian Champion in 1992 - 1994. He was named the best Soviet player in 1983 and 1989. In 1980 he became a bronze medalist of Olympic Games.
Fyodor Cherenkov represents the Moscow Spartak game style. While Spartak is the most popular club in Russia, Cherenkov is the most popular player. Often being the captain of Spartak, he led the team's game, fulfilling coaches tactical plans. In 1990 Cherenkov left Spartak to play with the French club "Red Star", but came back to collect the Russian Champion title. In 1994 the last game of Fyodor Cherenkov took place between Spartak and Italian Parma (draw 1:1). Nowadays Cherenkov works in Spartak as an assistant coach.
---


---
Comments to : Oxana Smirnova, oxana@quark.lu.se